Dec 22, 2018
stilhere55 asked
I take Eliquis twice a day, 5mg in the morning and evening. My scrotum has enlarged to twice its size since Thursday. I called my urologist, but he is on vacation. I talked to one of the nurses and she told me to try ibuprofen. I took 800mg yesterday and 400mg this morning. For my morning bathroom visit, there was a good amount of blood. What should I do besides stop the ibuprofen? Also, the nurse did not know I was taking Eliquis.
At a glance
NSAIDs like ibuprofen increase the risk of bleeding when taken with anticoagulants such as Eliquis. If you experienced a bleeding episode, prompt medical attention is required.
Answer
Eliquis (apixaban) should not be taken with NSAIDs like ibuprofen as it increases the risk of bleeding, which may be what you are experiencing. Over-the-counter NSAIDs include:
Ibuprofen (Advil; Motrin)
Naproxen (Aleve)
Aspirin
In fact, any drug that affects the clotting of blood should not be used with Eliquis unless specifically recommended by your doctor.
The prescribing information for Eliquis states the following:
Concomitant use of drugs affecting hemostasis increases the risk of bleeding. These include aspirin and other antiplatelet agents, other anticoagulants, heparin, thrombolytic agents, selective serotonin reuptake inhibitors, serotonin norepinephrine reuptake inhibitors, and nonsteroidal anti-inflammatory drugs (NSAIDs) [e.g. ibuprofen]. Advise patients of signs and symptoms of blood loss and to report them immediately or go to an emergency room. Discontinue ELIQUIS in patients with active pathological hemorrhage.
Not only do NSAIDs like ibuprofen increase the risk of bleeding events with Eliquis, it also increases the risk of:
In one large study, Concomitant Oral Anticoagulant and Nonsteroidal Anti-Inflammatory Drug Therapy in Patients With Atrial Fibrillation, users of NSAIDs were 1.6 times more likely to experience a major bleed and 1.5 times more likely to experience a stroke or systemic embolism (the study used 'hazard ratios').
In regard to the blood in your urine, this is known as hematuria. It is a known and listed side effect of Eliquis: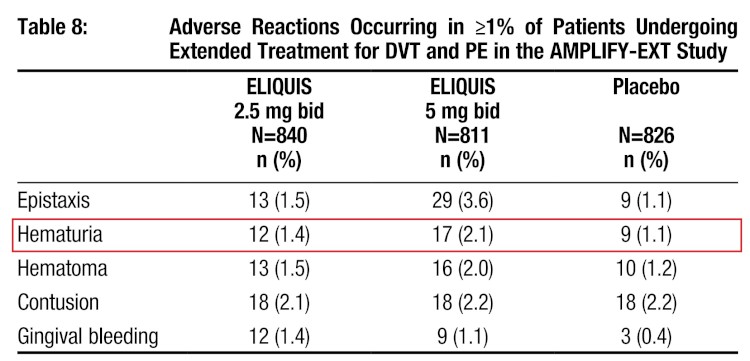 Taking ibuprofen while you are taking Eliquis could put you more at risk for experiencing hematuria.

Hematuria is one of the most well-known side effects of anticoagulant therapy and has been well studied. The majority of individuals experiencing hematuria end up being classified as a 'non-major bleed' but there is the risk of serious complications.
As one study puts it:
The usage of anticoagulant or antiplatelet drugs is beneficial for patients with several diseases. However, serious complications may appear during such a therapy, including mucosal bleeding in the form of hematuria [i.e. blood in the urine].
Serious complications include urinary lesions and associated conditions according to the American Urological Association.
Anytime you experience a bleeding episode while taking a drug like Eliquis, it requires prompt medical attention. If you can't reach your doctor for an evaluation, you may consider seeking emergency care, just to be safe.
About Ibuprofen
Ibuprofen is an NSAID (non-steroidal anti-inflammatory drug) that is available both over the counter (200 mg), or via prescription (400 mg, 600 mg, 800 mg) in solid and liquid dosage forms.
After taking by mouth, pain relief is generally seen within 30 minutes, but peak effects occur about 1 to 2 hours after dosing. It has a duration of action around 4 to 6 hours per dose. It should be taken with food to minimize GI discomfort.
Long term use of ibuprofen should be avoided as it increases the risk of gastrointestinal side effects and can increase the risk of certain cardiovascular events.
About Eliquis
Eliquis (apixaban) is an anticoagulant (blood thinner). Specifically, it is a selective factor Xa inhibitor anticoagulant. It is indicated for:
Prevention of stroke and systemic embolism in patients with nonvalvular atrial fibrillation
Prevention of deep vein thrombosis (DVT) after hip or knee replacement surgery
Treatment of DVT and pulmonary embolism (PE)
Reduction in risk of recurrence of DVT and PE
Unlike warfarin, Eliquis does not require laboratory monitoring.
Eliquis is generally taken twice daily, with or without food. Food does not affect the rate or extent of absorption of the drug.
References

Eliquis Prescribing Information. BMS

Concomitant Oral Anticoagulant and Nonsteroidal Anti-Inflammatory Drug Therapy in Patients With Atrial Fibrillation. ScienceDirect